25/06/2021, 4:30 pm,

Tutto Domani

, Projektraum von Westfälischem Kunstverein und LWL-Museum für Kunst und Kultur
Accompanying event to Pablo Schlumberger's exhibition Horror Vacui:
On Friday 25 June, from 4:30 pm Fion Pellacini will musically bring to life Pablo Schlumberger's dyonisian installation.
Crossing the fields of sculpture, painting, installation and media art, Pablo Schlumberger draws from the fundus of various (art-) historical epochs, as well as high and pop culture. In his work he humorously deals with the question of representation and perception. In this sense everyday objects combining tradition and modernity function as recurring motifs that lost their specificities – such as architecture, coins and fountains. They seemingly take on a life of their own or serve as blind spots for the still unseen. By behaving as "solid liquids", like two sides of a coin, they pinpoint the increasingly toxic simplification of cultural compositions in our everyday environment.
Fion Pellacini (lives and works in Hamburg and Dortmund) is a visual artist and musician. His work has been seen and heard at Kunstverein Harburger Bahnhof, Hamburg and David Roberts Art Foundation, London, among others.
A joint project with: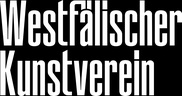 Supported by:
In the context of the exhibition

Epilog: Pablo Schlumberger, Horror Vacui

, Projektraum von Westfälischem Kunstverein und LWL-Museum für Kunst und Kultur

 → Exhibition